"Katsuyama girl's festival 2010" An exhibition of photographs
●29 April ー 9 May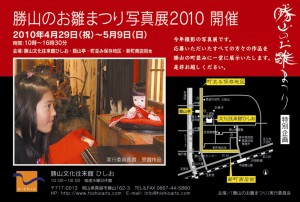 10:00-16:00 Admission freeat HISHIO-Centre for Cultural Exchange, Kazantei, the Katsuyama Street Preserved District, Shinmachi Local Shopping Street
The all submitted works would be exhibited. Please come and walk around Katsuyama during this spring long holiday week, and enjoy the all photo works!
*Examination Report*
Hishio Arts has received 121 works. Thank you for your submissions! Conducting the rigit examinations, Hishio Arts finalized and announce the award-winning works as follow.
●The Chairman Prize 1 person (receive the prize certificate and 30,000Yen)
↓ ………Yoshiyuki Sato(Waki-cho Miyama-shi Tokushima-Prefecture)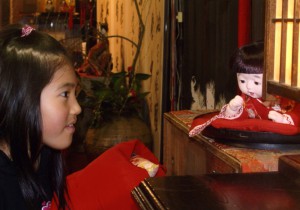 ●The Mayor of Maniwa Prize 1 person (receive the prize certificate and 30,000Yen)
↓ ………Kokichi Nakata(Hongo Maniwa-shi)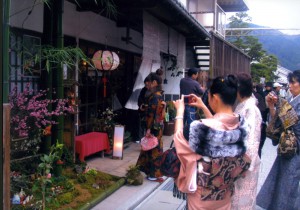 ●The Heartwarming Prize 1 person (receive the prize certificate and 20,000Yen)
↓ ………Hiroshi Tanaka(Oishi-cho Aibu-shi Hyogo-Prefecture)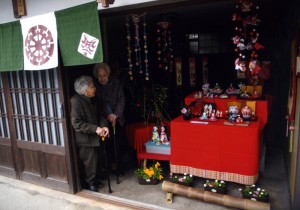 ●The Interaction Prize 1 person (receive the prize certificate and 20,000Yen)
↓ ………Noboru Sejima(Tominoo Maniwa-Prefecture)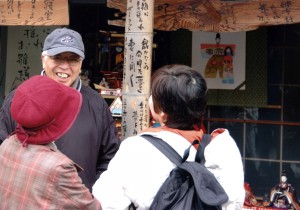 ●The Exhibiting Prize 20 people (receive the prize certificate and 10 year Memorial Book "Katsuyama girl's festival")
Kenji Aoki(Yazu-gun Tottori-Prefecture) Ichiro Nii(Akaiwa-shi)
Shogo Ishio(Maniwa-shi)           Mitsuo Kageyama(Okayama-shi)
Noriko Oka(Maniwa-shi)            Michiko Uryu(Maniwa-shi)
Fukashi Shimizu(Akaiwa-shi)          Yukio Kawabata(Bizen-shi)
Katsuko Yuki(Maniwa-shi)         Tadashi Kanatani(Okayama-shi)
Katashi Sakamoto(Maniwa-shi)      Kunihisa Wada(Maniwa-shi)
Yoshiko Inoue(Kobe-shi)           Sueko Ishii(Okayama-shi)
Takaaki Matsumoto (Maniwa-shi)        Keijiro Idaka(Maniwa-shi)
Takao Kodani(Maniwa-shi)          Junsuke Sarai(Kurashiki-shi)
Masanori Watanabe(Maniwa-shi)           Akira Shinmiya(Maniwa-shi)