"Weave, Spin and Dye" – an textile exhibition
by Vivien Prideaux, Yoko Kano and Toyomi Harada
Workshop – Vivien Prideaux
●4 September-23 October 2007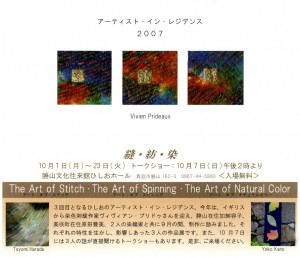 Artist in Residence 2008
Vivien Prideaux studied traditional dyeing technique in India, Thailand, New Zealand, Western Samoa, and Japan. She creates striking textile art by bringing out the characteristics of materials, exploring dyes, embroidering and silkscreen.  Love of nature and extensive travel are the main source of her inspiration.
Her contribution to the world of textile includes lectures and workshops and she works extensively for the promotion of the craft. Vivien Prideaux lives in Cornwall and was appointed to be a chairman of the Cornwall Craft Association in August 2008. She hopes to build and nurture this link with HISHIO.
Yoko Kano:
Born in Katsuyama she studied natural dying and weaving at Joshibi University of Arts and Design in Tokyo, after which she returned to Katsuyama where she now lives and works. In 1996 she began making Noren – entrance curtains – to adorn shops and houses of the main street, which has been awarded "The Most Beautiful Main Street 2009" by the Ministry of  Transport. Her involvement in local activities is extensive and she has been a driving force behind the rejuvenation of Katsuyama.

Benesse Corporation commissioned her to create Noren for "The Standard" in 2001 and she has been leading the Noren Project in Honmura, Naoshima Island.

She opened her Katsuyama gallery Hinoki Kusaki Senshoku Koboin 1997, where her daughter Kazuho, a weaver, now works and learns dying.
http://hinoki.exblog.jp/
Toyomi Harada:
Born in Osaka, after 7 years of office work, Harada took up SAORI, self – discovery through free weaving (1986-7) and went to England in 1990 to learn spinning. In 1992 she founded

Arts & Crafts Village

in Okayama prefecture with a woodwork artist Yasunori Nagao at a disused school, which they renovated. It offers extensive workshops for both woodwork and weaving, and is at the centre of a uniquely cosmopolitan community in the heart of the Chugoku Mountain Range.

Harada's oversea activities include: exhihibitions in NYC (1996,7); Totnes Japanese Textiles in UK (1998); visiting Artist in Plymouth to teach SAORI to the handicapped (1999); Japanese Studio Crafts Exhibition at Daiwa Japan House in London (2000)

She is a contributor  to many art magazines in Japan.