"We Have A Dream" An exhibition of photographs by Tomiko Cohen
●23-30 May 2009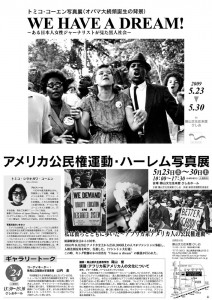 'We Have a Dream' The Civil rights Movement, which has led to President Obama.
An exhibition of photographs by Tomiko Shirakigawa Cohen.
24 May Lecture by Kiyoshi Yamauchi and Homare Oyama
Tomiko Shirakawa Cohen Born in Kagoshima in 1936. She visited the United States, Mexico, Cuba and Africa as a photo-journalist. Her publication includes 'Children of Japan' : Sterling Publishing, 1967. She lives with her husband in New Paltz, NY.
Niimi International Association:
http://www.city.niimi.okayama.jp/usr/kokusaikouryu/index.htm