Atsuki Takamoto Exhibition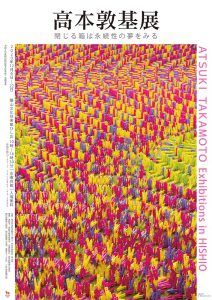 A DREAM IN A CLOSED BOX
・06 – 22 December 2020
HISHIO – Centre for Cultural Exchange Katsuyama
10:00 – 16:30 Admission free Closed on Wednesday
ARTIST TALK
・06 December 14:00 – 15:00 Admission free
Due to the corona pandemic, strict regulations will be enforced at the venue. Your cooperation will be appreciated. Please check the date and time before you come, in case there might be some changes.
We find patterns of all sorts in our everyday surroundings, which evoke diverse images in us that affect our mind and actions deeply. Seeing stripes of Zebra crossings, or the black and yellow of off-limit signs, for instance – our response is automatic, and we stop. These patterns, often found amongst industrial products, elicit an image of repetition, of infinite repetition, and permanence. Our senses and action have been greatly influenced by these patterns, from which our culture has evolved.
Each individual is like a closed box of subjectivity, however we share the sensibility induced by the permanence of patterns and this, I believe, would lead us to create a new culture. I work and create with this thought in mind.
Astuki Takamoto
Atsuki Takamoto
Works and lives in Okayama.
Ecole des Beaux-Arts Nancy
Kanazawa College of Art Postgraduate
Solo Exhibitions
2020 Evening in a Salon/ Sanyo Shinbun, Okayama
2019 Assembly Assemblée Kanazawa Citizen's Art Centre, Ishikawa
2017 A Bouquet for Mr. Frederic Taylor Kanazawa Art Gumi, Ishikawa
2016 ASSEBLY・ASSEMBLEE
2015 JUXTAPOSITION Fukiage Art Museum
2014 Self Artist Residence in Maniwa Atsuki Takamoto
Old Senkyo Primary School, Hiruzen winery, Okayama
Group Exhibitions
2020 VOCA2020 Ueno no Mori Museum, Tokyo
2020 Mimasaka Sanyu Geijyutsu Ondo Yubara, Okutsu, Yunogo, Okayama
2019 Takamatsu Contemporary Art Annual vol.06 Takamatsu Art Museum, Kagawa
2016 Japan Belgium International Exchange Art Exhibition in Kanazawa
WEWANTOSEE Kanazawa 21st Century Museum, Ishikawa
2014 The 17th Taro Okamoto Contemporary Art Award Okamoto Taro Museum, Kanazawa
Awards
2015 Fukutake Culture Encouragement Award
2015 The 15th Okayama Arts and Culture Award – Grand Prix
2015 Maniwa-City Award
2014 The 17th Taro Okamoto Contemporary Art Award – Special Award
Voted No.1 by viewers.
---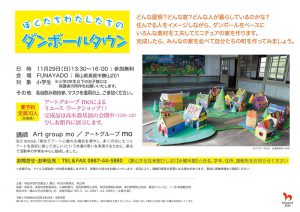 Recycling Workshop – Art Group mo
Finished work will be exhibited during the exhibition.
Making Our Cardboard Town!
What kind of roof? What sort of window? Who lives in the house?
Imaging the people who live inside, let's make houses recycling cardboard and other materials. Then build a town with finished houses!
NPO Katsuyama Machinami Iinkai
Sponsorship: Maniwa-City, Maniwa Education Board, Sanyo Shinbun, Yomiuri Shinbun Okayama Branch, Asahi Shinbun Okayama Office, Mainichi Shinbun Okayama Branch,
Maniwa Times, Maniwa Tourist Bureau
Enquiry: Katsuyama Bunka Ohraikan HIshio Closed Wednesday
0867-44-5880
Okayama prefecture support cultural and art projects in 2021, providing resident artists and those connected to Oakayama of venues for exhibition, performances and other projects and encouraging their creative activities, which will give people in Okayama opportunities to enjoy variety of arts.