Pipa recital: Shizuka Yang Jing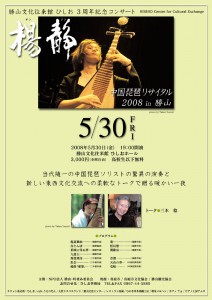 2008.5.30
Yang Jing, a virtuoso pipa player, performs her own compositions as well as pieces by her teacher,Minoru Miki. Miki is an internationally acclaimed composer who spent much of his youth in Katsuyama, where he took first steps towards becoming a composer. He will give a talk at this special event.
Born in Henan in China. Yang Jing began Pipa (Chinese lute) lessons at the age of six, giving her first public performance after only six months, and going on to study Pipa and composition at Shanghai Music Academy. Her first break through came when she won prizes in both performance and composition at "Spring of Shanghai" International Music Festival. Since then, her mesmerizing technique and profound musicality has been attracting a world-wide audience, and she was the first artist to perform playing an ethnic instrument at the Last Night of the Proms in 1999.
Born in Tokushima, Japan. Miki studied composition at the Tokyo University of the Arts. He has devoted much of his life's work to a series of eight opera, all deeply rooted in Japanese history. His music has been very well received in the west and he has composed a  number of commissioned pieces, including the score for the film In the Realm of the Senses. He has been awarded many coveted prizes including the Ministry of Culture Arts Festival Award, and the Medal with Purple Ribbon which is awarded by the government to outstanding artists and academics.