Dainanagekijo "Otsuberu and the Elephant"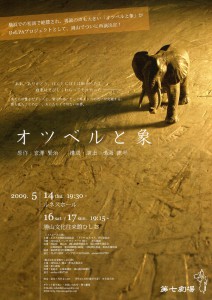 2009.5.16 / 17
Hishio Theatre – Dainanagekijo
'Opperu and the Elephant' by Kenji Miyamoto
16 (Sat.), 17 (Sun.) May 2009    6:30 PM
Admission:  Adult    3,000
Student  1,000
Following their successful performance of "Aoinoue/ Hannyo" at Hishio last year, it is a welcome return of Dainanagekijo with their new production "Otsuberu and the Elephant".
Founded in 1999 by a producer Kohei Narumi with several aspiring actors. Their productions incorporate movements from Kabuki and Noh Japanese theatre, into contemporary dance and Buto, pursuing a unique theatrical form departing from the convention.
They have been performing extensively in Japan and overseas; they last performed at Hishio in 2007.
http://dainanagekijo.org/index.html