Hideo Furuta
(1949ー2007)
●October 17 to November 16, 2005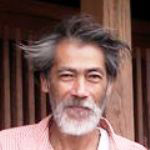 Born in Hiroshima, Japan. Winning a sculpture competition in Wales, Hideo Furuta came to the UK in 1985 and left 26 large-scale granite sculptures for public sites all over the country until his premature death in 2007. 'Juxtaposition' was exhibited in Regent Park, London in 2001 as a part of Japan Festival. He created, as an artist in residence at HISHIO in 2005, "SPINNING CUBES", which is his only public sculpture in Japan.
He was an artist first, but also a keen mathematician and interested in contemporary music, which is reflected in his strong yet elegant forms and positioning of his works. He was awarded the coveted Henry Moore Fellowship in Sculpture in 1992 and took a residency at University of Northumbria, where he ran series of weekly seminars entitled 'Observation on Music and Visual Art'. He undertook similar lectures at other universities such as Edinburgh University and Trondheim Art College in Norway.
In 1990 he settled in Creetown in west coast of Scotland and lived by the quarry. He played an active role in the community giving workshops for school children and being involved in the Adamson Square project, for which he created a large sphere with relief depicting the village life. He was much respected and loved character there and the village community made him 'an honourable citizen of Creetown' posthumously.
Although his central practice as an artist was stone carving, he was an accomplished draughtsman and printmaker and his 2008 retrospective exhibitions in March in Dumfries and also in October in Wales showed a collection of his drawings and prints with a few small sculptures. The venue was filled with people who loved the art and humanity of Hideo Furuta. He is greatly missed by many.
'Moving Mountains', a half hour documentary by Border TV Scotland was broadcast in 1997 and also by ITV following year.
●hishio collection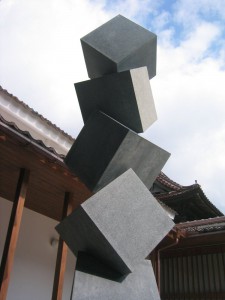 obituaries:
http://news.scotsman.com/obituaries/Hideo-Furuta.3602257.jp
http://www.theherald.co.uk/features/obituaries/display.var.1971388.0.hideo_furuta.php