Ford Hallam
●November 2 to 20, 2006
「Metalworks – Past and Present」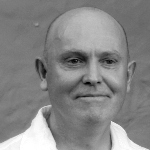 "Katsuyama is one of those increasingly rare Japanese rural towns that has managed to retain much of it's past charm and refinement. Set, as it is, in such peaceful and lovely natural surroundings it was a genuine treat to be able to live there for a short while and to practice my art and craft in that tranquil environment.
As an Englishman working in a particularly Japanese tradition the experience was especially transformative. I'd long struggled with the issue of authenticity regarding my work and the legitimacy of my rather singular position as the only non-Japanese practitioner of this art form. The overwhelming support and gestures of heartfelt appreciation I received from so many of the visitors to Hishio has allayed those concerns for me forever.
Despite having been a professional goldsmith for nearly 30 years now I am still very much at the start of my development as an artist. My stay in Katsuyama has been a wonderful springboard into the exploration of my own aesthetic and the language of metal. My growing confidence is allowing me to take my ideas far beyond the original bounds of my adopted tradition while remaining true to the guiding spirit of the past. In an eloquent way Katsuyama herself is a gentle example of that same process of understanding and integrating the past while living in a vital and relevant present.